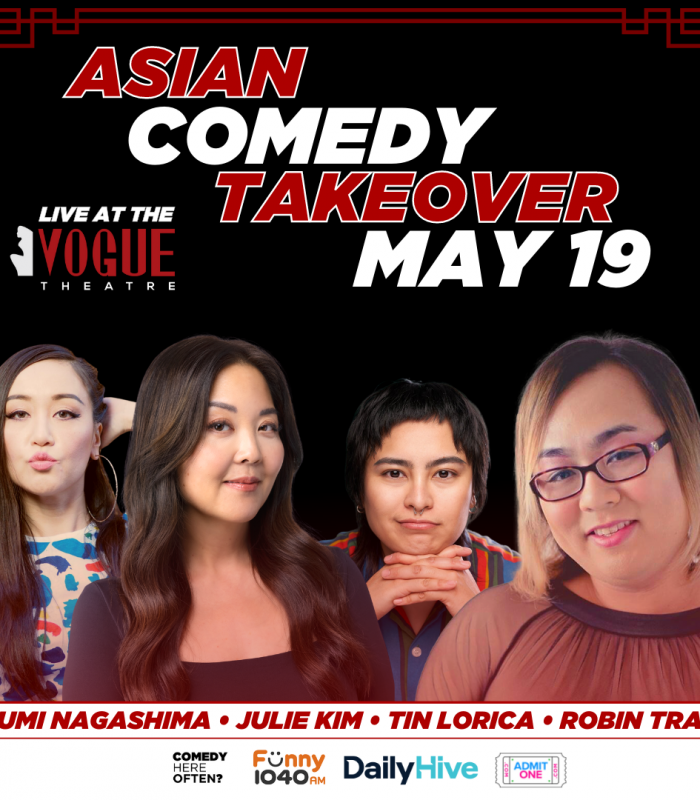 Asian Takeover
May 19, 2023 @ 8:00 pm
The Vogue Theatre (918 Granville St, Vancouver)
Doors: 7:00 pm
It's back! Comedy Here Often returns with the much anticipated sequel to last years sold out 'Asian Takeover' Vancouver comedy show celebrating Asian Heritage Month!!
This time its even bigger with the wickedly sharp American headliner, Robin Tran! She's appeared on Just For Laughs, Comedy Central's 'Roast Battle', Netflix Is A Joke & That's My Time With David Letterman. You can watch her stand-up special 'Don't Look at Me', on Hulu, available on all audio streaming platforms too.
Featuring some of the city's funniest Asian-Canadians! Including your host, prolific writer, producer and performer, Julie Kim! Julie's worked on Just For Laughs, Kim's Convenience, the Junos and done multiple North American tours w/ Ronnie Chieng (The Daily Show). Gracing the stage is fan favourite, Yumi Nagashima (Comedy Central Asia), along with Just For Laughs Vancouver & CBC Comedy star Tin Lorica!
Grab your tickets to the 'Asian Takeover' comedy show, at the Vogue Theatre in Vancouver, on Friday May 19th!
Notes:
Secure tickets ASAP, we sold out last year
Seats are assigned, so hurry if you want to sit with friends
DJ from 7pm-8pm and post show
Brought to you by Comedy Here Often?, the Juno award winning label, showcasing a special mix of Canada's top comedians and touring headliners throughout Vancouver venues!
CHECK OUT PAST STAND-UP CLIPS HERE
*CHO? will be recording this live event.